Vehicle Wash
Supply, Inc.
5478 S. Saginaw
Flint, MI 48507
Phone/Fax: (810) 742-4762
info@vehiclewashsupply.com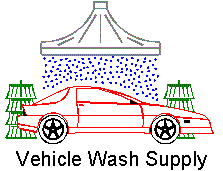 Supplier of Auto Wash Components...

PLASTIC REPLACEMENT COMPONENTS
CONVEYOR ROLLER ASSEMBLIES

View Our Updated Product Brochure
Vehicle Wash Supply, Inc, Inc. specializes in the manufacturing of plastic (UHMW, Delrin and Nylon) components used in the car wash industry.

Replacement plastics are available for all major "In-Line" conveyor and roller assemblies. Including, but not limited to, pusher roller assembly plastic wheels (front and rear), flanged and un-flanged bushings, correlator bushings, motor torque plates, bearing plates and miter bearings.

In addition, plastic (UHMW and Delrin) replacement rollers and trolley wheels are available for the most popular " In-Bay" automatic systems.

All components are manufactured using the latest technology in CNC (computer numerical controlled) machine tools.

Components are manufactured to close tolerances and with a high degree of quality - no rough thru-holes / counterbores or burrs on our parts.

Our website only includes a sampling of some of our most popular components - please call or write for details if you don't find what your looking for.

Thank you again for visiting our website - we look forward to working with you in the future.
Vehicle Wash Supply, Inc.
5478 S. Saginaw
Flint, Michigan 48507
Phone/Fax: 810-742-4762

All text, graphics and other items contained herein are copy-written by Vehicle Wash Supply, Inc.
No portion of this site may be copied or duplicated without written consent of Vehicle Wash Supply, Inc.
Copyright © 2002 - 2018 Vehicle Wash Supply, Inc.
All rights reserved.

We can be contacted at:
info@vehiclewashsupply.com